I really started taking care of my hair a few years ago when I was going through a particularly bad hair year. It seemed like my locks suddenly lost what little moisture they had to begin with and turned into a giant tumbleweed overnight. So I did what any natural beauty lover would do and ran straight to my kitchen.
With a little research and a lot of experimentation, I gradually learned what works and what doesn't when it comes to nourishing dry hair and replenishing lost moisture. I've tried just about every trendy ingredient, and I can happily say that this hair tea recipe has made my hair softer and shinier than ever (hurrah!).
The secret hair ingredient: Rosemary!
Rosemary for hair growth

Rosemary has been used since ancient times as a medicinal and culinary herb due to its therapeutic properties. It was most commonly used for healing and purification, but because it boosts blood flow, it can help stimulate hair to grow more quickly and come in thicker and fuller. Not only that, but it helps get rid of hair buildup leaving you with thick, bouncy, shiny hair.
Scalp inflammation can contribute to hair loss so maintaining a healthy scalp environment is key to enabling hair growth. Rosemary "helps boost blood circulation to the scalp," explains Meerika Khanna, Ayurvedic hair wellness expert and founder of Rthvi. "The improved blood circulation helps follicles get the nutrients for healthy growth."
In fact, rosemary is an effective natural alternative to 2% minoxidil. A study comparing the use of minoxidil and rosemary essential oil for hair loss found that individuals in both groups had a significant increase in hair count after 6 months and that there was no significant difference between the two groups [source].
Ready to give rosemary a try? Read on for ways to add it to your hair routine: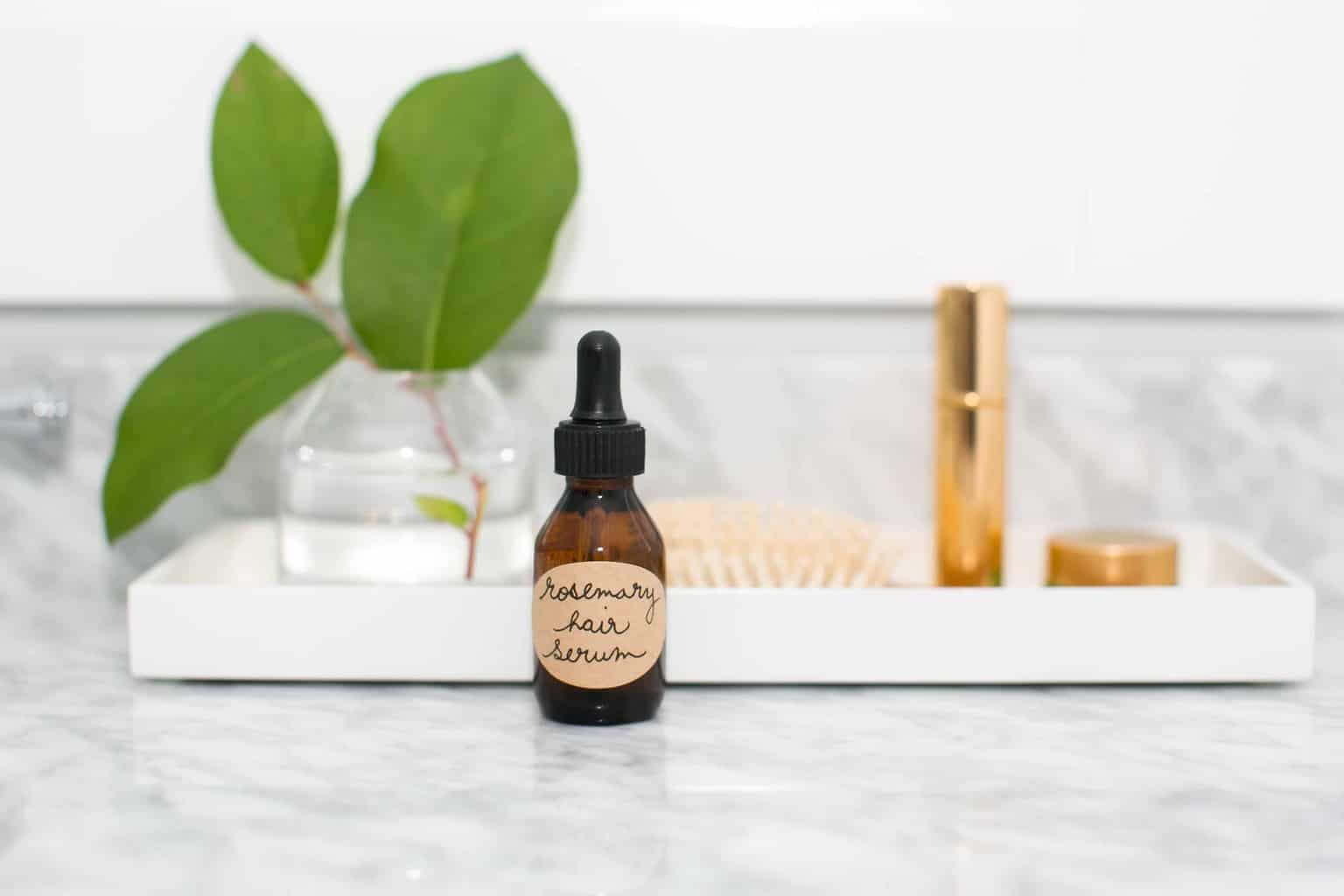 1. Spark new growth with rosemary growth oil
The best way to use rosemary is to use it as a scalp oil and keep it on overnight. When applied directly to the scalp, it helps fortify and rejuvenate the hair follicles. It also improves hair texture when mixed with a carrier oil, smoothing the cuticle to look thicker and resist frizz.
Nourishing jojoba oil won't clog hair follicles and is an excellent conditioner for dry hair. Argan oil is rich in fatty acids but is still light and absorbs quickly. Combine jojoba and argan with two of our favorite essential oils for hair growth.
—1 tablespoon jojoba oil
—1 tablespoon argan oil
—9 drops rosemary essential oil
—9 drops lavender essential oil
A little oil goes a long way so use a bottle with a dropper cap to make dispensing easy. Apply a few drops of oil into the scalp and massage gently with your fingers. Repeat three times a week. Do this at night so your hair can soak in the benefits overnight. Then shampoo out in the morning.
2. Stimulate scalp with rosemary shampoo
Using a shampoo with a high concentration of rosemary oil or rosemary leaf extract is another way to add this herb to your hair care routine. Rosemary delivers antioxidants to the scalp, providing essential nutrients to the follicles that are needed to keep hair looking healthy and shiny.
Plus "it helps remove product build-up when used as a rinse or shampoo," says Khanna. She recommends a shampoo with rosemary along with other hair scalp stimulating and nourishing herbs including peppermint, ginger, and stinging nettle. Or you can also add rosemary essential oil to your current shampoo, just add 10 drops for each ounce of shampoo and mix well.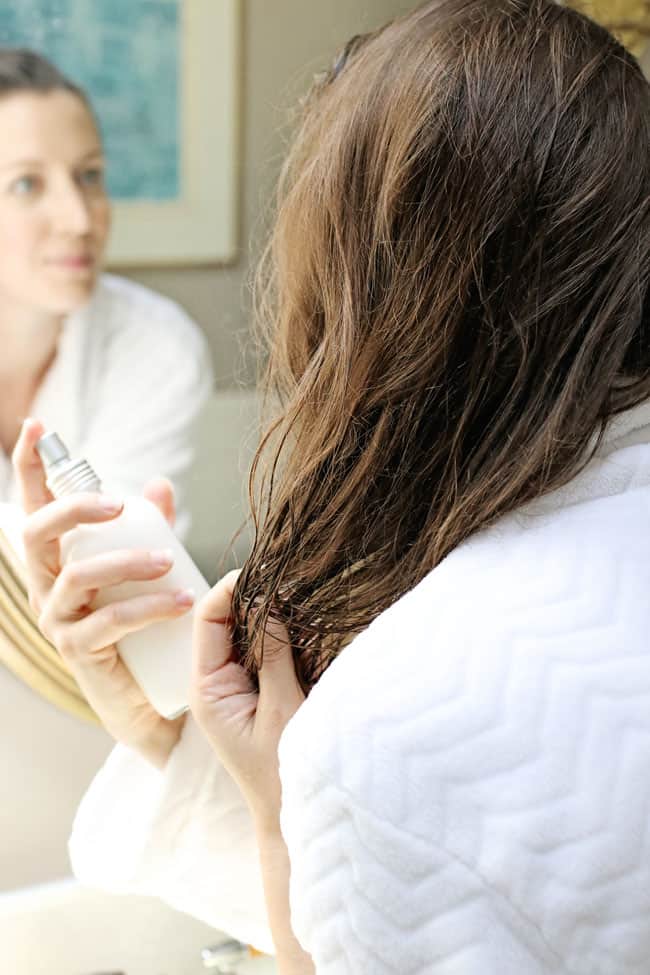 3. Revitalize hair with a rosemary tea spray
This anti-inflammatory and antimicrobial herbal tonic that's everywhere on social media is a perfect spritz-and-go solution for thinning hair. Although not as potent as using essential oils, it is an easy and cost-effective way to add rosemary to your hair routine. 
Add 3/4 cup of rosemary leaves to 1 cup of boiling water; steep 1 hour. Strain, cool, pour into a spray bottle. After shampooing, spritz rosemary water onto towel dried hair and massage into the scalp and strands. Dry hair and style as usual.
You can also spray onto your hair before bed and leave it on overnight. Repeat twice a week.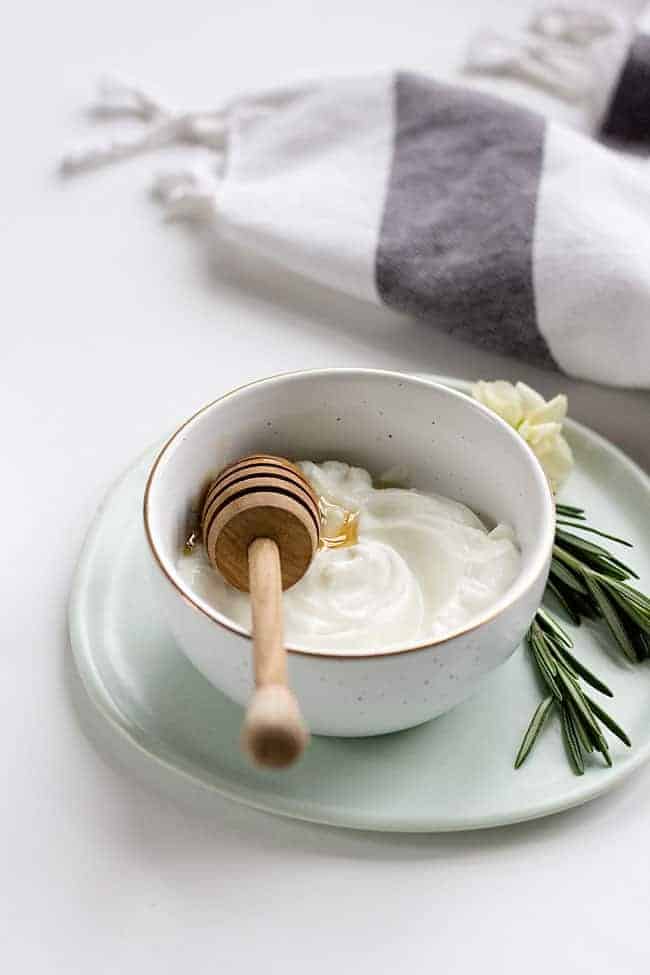 4. Nourish hair with rosemary yogurt mask
While rosemary is amazing on its own, it's even better when combined with a few hair superfoods you already have lying around your kitchen. My favorite hair mask combines yogurt and honey to soften your locks, plus a little jojoba oil to replenish minerals and seal in moisture.
Not only will it do wonders for dry, damaged hair, but (and I think this is the best part) it can also double as a face and body mask. Yep!
—1 cup yogurt
—1 tablespoon honey
—5-10 drops rosemary essential oil
—1 teaspoon jojoba oil
Mix the yogurt, honey, rosemary oil and jojoba oil in a small bowl. Coat your hair in the mixture, beginning with the ends of your hair and working your way to the scalp.
Once everything is covered, pop on a shower cap and let it soak in for about 30 minutes. After the 30 minutes is up, hop in the shower to rinse everything off and shampoo and condition as normal.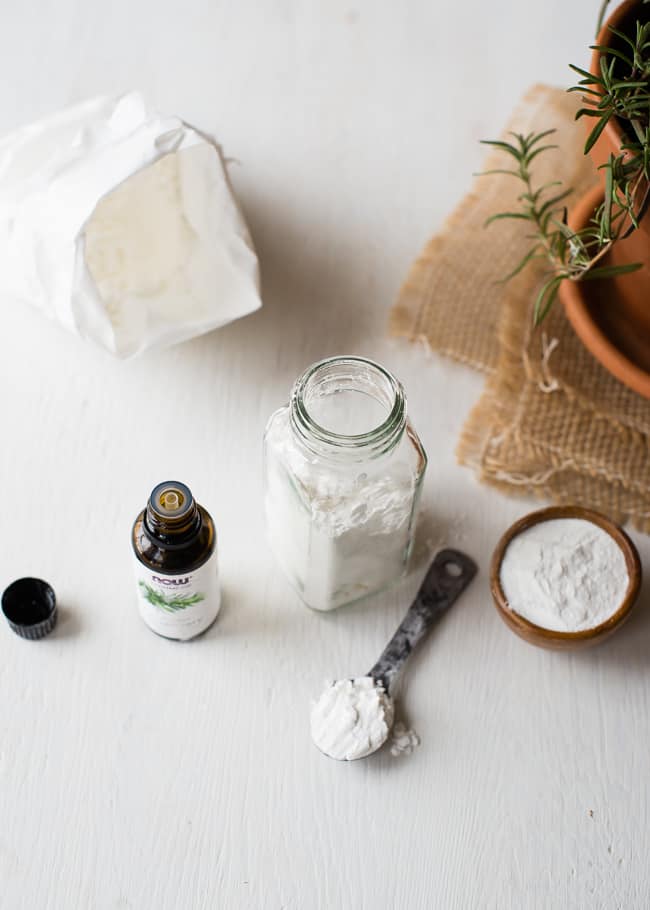 5. Add volume with rosemary powder
A fun tip is to actually apply the volumizing powder right before bed, and when you wake up you'll have extra height to your hair that also smells divine.
—2 tablespoons cornstarch
—3-4 drops of rosemary essential oil
—2 tablespoons rice flour or potato flour
—a clean, empty spice shaker
In a mixing bowl, combine the cornstarch and rice flour (potato flour works fine as a substitute) and add the 3-4 rosemary oil drops. Add the mixture to an empty spice shaker and sprinkle on to your roots for extra volume.
To really ensure that it's getting in there and absorbing the oil, use your fingertips to rub it in until the powder disappears. Then, brush out your hair—you should have some crazy volume, plus hair that smells super fresh.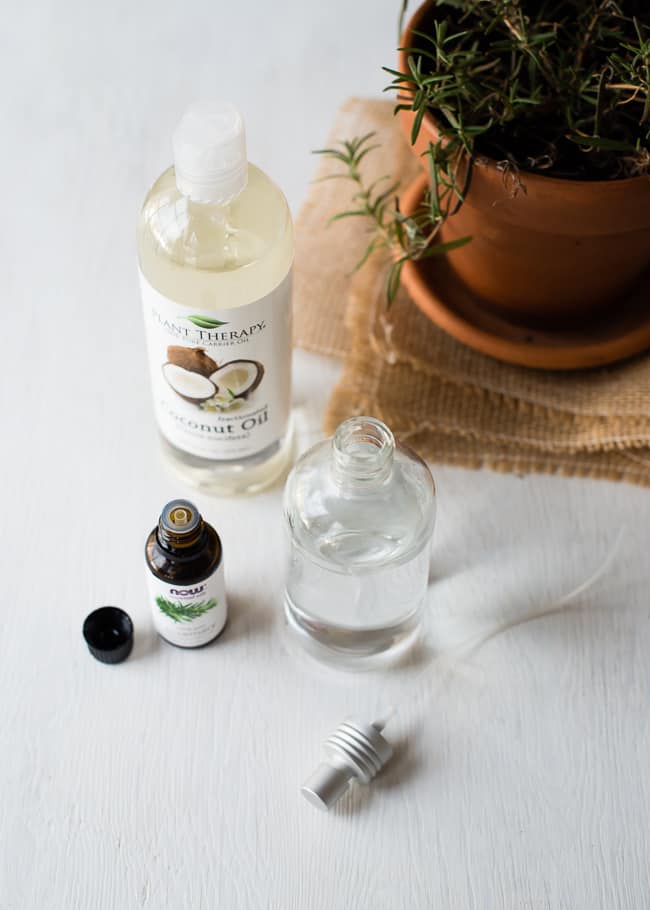 6. Restore damaged hair with rosemary coconut oil spray
A hair spray that actually hydrate and strengthens your hair! Spritz your strands to see the frizz fade away with this natural alternative.
—2 tablespoons fractionated coconut oil
—12 drops rosemary essential oil
—2 cups distilled water
Add the coconut oil to a spray bottle along with the distilled water and essential oil. Be sure to shake well before each use, separation is normal. Spritz on damp or dry hair.
Then, either using your hands or a wide-toothed comb, comb the product through from root to tip for smooth hair. Using your hands or a wide toothed comb is healthier for hair, resulting in less tangles and frizz. Coconut oil is one of the few oils that can penetrate the hair follicle, so it helps to moisturize and strengthen hair alongside rosemary oil.
Every so often, this can be sprayed straight onto the scalp, near to the roots as a treatment—hair is really only as healthy as its roots are, and rosemary oil can help stimulate follicle growth when applied to the roots. This is best done as a pre-shampoo treatment; most hair types will find the spray is a touch too heavy to use on their roots every day.
25